How you know not only that a kid lives here, but that this kid has older siblings:
How you know that Mom has chilled over the years: Rather than running to save baby, she runs for camera.
...and doesn't clean spit-up before taking picture.
Also - everyone please appreciate how nicely my baby has chubbed out.
Isn't he a morsel?
(Taking part in the "A Family Lives Here" series.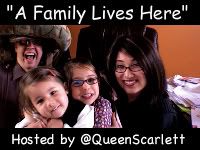 Stop on by!)